RMA Mission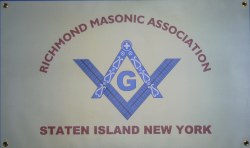 What is the RMA?
The Richmond Masonic Association is the organizing body of Masonic Charity and Activities on Staten Island. The RMA's members are the Masters, Wardens, past Masters and current and past Grand Lodge officers of the seven Masonic Lodges on Staten Island, under the direction of the District Deputy Grand Master of the Richmond Masonic District. The RMA President and officers are elected yearly by the members.
The Richmond Masonic Association, is the official sponsor of all joint activity, such as the Richmond Masonic School of Instruction and the Masonic Blood Bank. It also runs the Annual Charity Ball/Mason of the Year Dinner, Annual Masons / Knights of Columbus Brotherhood Dinner, Annual Picnic, Annual Holiday Party and the Children's Holiday Party.
Every year the RMA provides for Charity at the Annual Allocation Meeting. Gifts and scholarships for many Local and National Charity organizations, groups and individuals are suggested and voted upon by the members. Food drives, Child ID shoots and Clothing / Toy Drives are also organized and scheduled at this meeting.
Meetings are at the Tottenville Masonic Temple, 236 Main Street, Staten Island, NY 10307, 1-718-948-9805, on the second Wednesday of every month.
District Deputy Grand Master and Chairman - R:W: Michael Roman
Grand Director of Ceremonies - R:W:Anthony Roman
President - W.: Peter DeLorenzo
1st Vice President - W.: Paul Mango
2nd Vice President - W:.
Secretary - V.:W.: Frank Ciccero
Treasurer - R: W.: Edward R. Stouter
Grand Chaplain - R.:W.: Gasper LaFata
Click here to go to the Grand Lodge of the State of New York